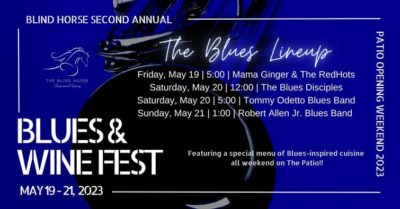 Kick off Patio Season 2023 with us as we bring you our second Annual Blues & Wine Fest! A weekend of top notch blues music, themed food, fantastic wine, cocktails and outdoor fun await you.
Here's the line up of the talented blues musicians:
Friday, May 19 | 5:00 | Mama Ginger & The RedHots
Saturday, May 20 | 12:00 | The Blues Disciples
Saturday, May 20 | 5:00 | Tommy Odetto Blues Band
Sunday, May 21 | 1:00 | Robert Allen Jr. Blues Band
More details to come so follow the event on our 
Facebook
 page to get all the updates! As always, our events are free and open to the public.